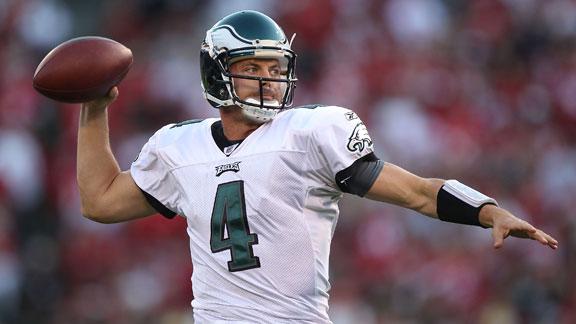 Its been 136 days but the wait is finally over. The NFL season has been saved! The Lockout is over! Football being my favorite sport it was excruciating to not have Football for the majority of the summer. To not speak about free agency, we weren't able to see what teams were improving and how. No rumors about who was getting traded and who was going to hold out and what not, it was all legal talk about the Lockout and how a bunch of billionaires can split they're money. Well now that its over, how about we move on to the fun stuff like Free Agency!
So far since the NFL has been back in business very little has happened which was too be expected, but still things are coming into fruition. Teams are signing players, while others are releasing them to make room for draft picks and just cap space in general.
So Far In The NFL:
Flying High
Kevin Kolb is finally going to get a chance to show us what he is really about. The Eagles agreed to send Kolb to Arizona in exhange for Dominique Rodgers-Cromartie and a 2nd Round pick. Kevin Kolb has had a lot of hype around him ever since he was drafted. He was expected to replace Donovan McNabb but it didn't quite work out that way, a man named Michael Vick came along and put that position under lock and key. The Cardinals as well all know were desperate for a QB, Derek Anderson was just awful and at the time rookies Max Hall and John Skelton weren't really the answer the either. That desperation made them give up a very good and young corner in Rodgers-Romartie and sent him to the Eagles, with Rodgers-Cromartie along side Asante Samuel, that's one tough pass defense. Kevin Kolb will finally get a chance to run a team and be the head honcho, lets see if he is really up to the task.
Seahawks Reloaded
The Seattle Seahawks are trying desperatley to revamp their roster while still trying to make the playoffs again. The Seahawks acquired two Vikings this offseason, Sidney Rice and Tavaris Jackson. While Tavaris may not have been the hot commodity that Sidney was/is its still a step in the right direction. This team's offense should be much better than last years Seattle team, the only question mark is the QB position. Does Charlie or Tavaris have enough to get it done? I'm not too sure, they've both showed some promise, but the good outweighs the bad in this situation. Even though they have re-tooled, I don't think the Seahawks will be making it into the playoffs this year, but they are moving into the right direction.

Jets re-sign Santonio Holmes
The New York Jets re-signed WR Santonio Holmes to a 50million dollar deal with $24 million gaurunteed. The Jets saw what Santonio did for their team last year during the regular season and the playoffs. They believe that he has put his past mistakes and his bad habits behind him and that he has completley matured into a top reciever in this league. I just wonder what is going to happen to Braylon Edwards now. There is no way the Jets are going to give him a similar contract but I'm sure that he will be asking for it. He has been productive in his 2 years with the Jets and I'm sure he believes he deserves it more than Santonio (even though Santonio is a Super Bowl MVP). Will the Jets also re-sign Antonio Cromartie? For how much? Giving Santonio this big of a deal gives the Jets less wiggle room with other players that they need or wanted to re-sign. After seeing this contract, Braylon and Antonio will both walk away from this Jets team.
Vikings and Redskins have trade in place for Donovan McNabb
Those Vikings really love the veteren mobile gunslinger kinds of QB's don't they? First you bring Brett Favre back from retirement, twice, and now you're bringing in Donovan McNabb? After McNabb was traded from the Eagles to the Redskins, he had a terrible year. The Redskins were just an awful team that couldn't do anything right whether on the field or off the field. Troubles between players and coaches all around, between McNabb getting benched for Rex Grossman multiple times and Albert Haynesworth barely playing at all, there was nothing good going for that team. The Vikings bringing in McNabb could be a great thing. He could be a great mentor to Christian Ponder (QB from Florida St. Drafted with the 12th pick) and maybe he could do what Brett Favre did and take them deep into the playoffs. Sidney Rice signing with Seattle is a big loss that I'm not sure they can recover from so easily.
Wait What?!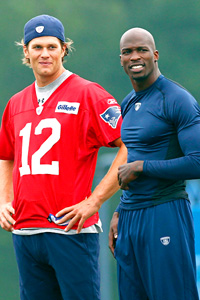 Not only did the Redskins get rid of troubled QB Donovan McNabb, but they got rid of an even bigger problem, I mean that figurativley and literally. That's right, the Redskins have finally solved their Albert Haynesworth problem. The Redskins and the Patriots have agreed on a deal to send Albert to the Patriots in return for a fifth round pick. The Patriots didn't stop there however, they also traded for playmaker and self-promoting wide receiver Chad John- whoops I meant Chad Ochocinco. I am excited for the both of them coming to the team, I really am. I am also worried however, will these players buy into the Patriot way? Team first structure with Bill as the head honcho. A lot of people are concerned with Albert Haynesworth coming to the team. Sure he has been overweight for the past two years and hasn't played up to that giant contract. No biggie! This is the Patriots! We always bring in the guys that are outcasted! Look at Randy Moss, Corey Dillon, Wes Welker (couldn't stay on a team to save his life) and the most recent Deion Branch. Bill Belichick has a very unique way of getting these guys to play their hardest,at least for a couple years anyway. I'm excited to see what kind of defensive formations we'll see from Bill, this could be a real dominant defensive line now, not exactly how its been the past couple of years. Can you also imagine Tom Brady passing to Chad Ochocinco? Chad is a great addition to our offense that was becoming a bit one dimensional since the loss of Randy Moss. This Patriots team is poised for great things!
Other Moves:
Reggie Bush takes his talents to South Beach
Giants Re-Sign Pass Rusher Kiwanuka
DeAngelo Williams re-signs with Carolina
Eagles sign Jason Babin
Clint Seassion inks deal with Jaguars